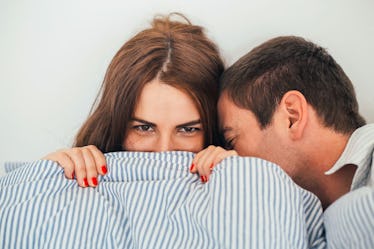 5 Funny Stories About Trying To Have Sex While Home For Thanksgiving That Will A-Maize You
Between feasting and catching up with the fam, no one said getting frisky over Thanksgiving would be an easy feat. But that doesn't mean we don't try. Quite the contrary, in fact. There's something about this holiday (perhaps the inherent theme of indulgence?) that seems to inspire your bolder side — unfortunately, that audacity often results in some seriously awkward scenarios. As such, there is no shortage of funny stories about trying to have sex while home for Thanksgiving.
Perhaps, while giving your partner a tour of your home, you stop in your childhood bedroom. Sure, there are still mid-2000s boy band posters on the wall and probably some embarrassing framed photos of you from junior high on the bedside table, but whatever — you know bae won't judge. Or, you're single AF and hit up your hometown crush for some nostalgic nookie. Either way, at some point, the thrill of sneaking around and getting frisky while your fam is downstairs is just too good to pass up. But what happens when Uncle Gary catches you in the act, or your brother-in-law overhears some of your infamous primal noises?
Bottom line: There is oh so much that can go wrong when you have sex while you're home for Thanksgiving, but that certainly hasn't stopped anyone from trying. Luckily, they have lived to tell the tale. Just how cringe-inducing can it get? I'll let you be the judge, but these holiday hookup confessions have got me on the floor.