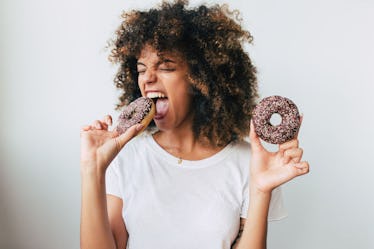 These Foods Are Great Snacks When You're Having Trouble Falling Asleep
The last time I went out of town, I forgot one crucial item on my packing list. I remembered my toothbrush and my phone charger, but managed to leave my trusty bottle of melatonin supplements on the counter at home. Without the sleep aid, I found myself desperate to drift off long into the night. That's when I figured I might as well dig into a bedtime snack to help ease my body into a good night's sleep. If you're looking for a natural way to fall asleep, try munching on these foods that boost melatonin.
Rebecca Park, a registered nurse in New York City and founder of RemediesForMe.com, tells Elite Daily that melatonin is a hormone naturally produced by the pineal gland in your brain. "Melatonin helps you to fall asleep and improves the quality of your sleep by relaxing and calming your body down before bedtime," she explains in an email.
The powerful hormone isn't only effective in helping you sleep like a baby, though. According to Park, it has a number of other physical and mental health benefits. As a powerful antioxidant, melatonin can help your body fight cancer, she says. Melatonin-rich foods also benefit your eye health, help with stomach ulcers and heartburn, and work to regulate your blood pressure and hormone levels. Your mind also stands to gain from the hormone's effects, because getting healthy levels of melatonin can help prevent seasonal affective disorder, as per Park.
So whether you love a savory treat before bed or opt for sweets every time, here are some delicious ways to boost your natural melatonin.