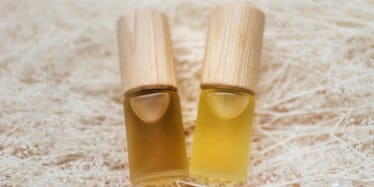 How To Blend Your Essential Oils For The Best Sleep Of Your Life
Getting a good night's sleep can sometimes feel as impossible and frustrating as trying to lick your elbow (if you've never tried it, I bet you just did — I see you, fam). There are a lot of different sleep aids on the market, but personally, I think adding some essential oils to your nightly routine is one of the best ways to get a good snooze. Many essential oils are specifically dedicated to helping you doze off, and combining some of these relaxing, fragrant substances into essential oil blends for sleep is a surefire way to reap all the bedtime benefits you're searching for.
Investing in an essential oil diffuser is a great first step to filling your room with sleeping-inducing aromas, and there are so many affordable options that will be the perfect vessel for all of your sleepy-time blends. Once you have your diffuser all set up alongside your bed, you'll want to figure out which essential oils combine well to relax your body and calm your mind, so that you'll be able to enjoy a peaceful slumber every single night.
Gather a few of the essential oils that are known to promote healthy sleep, and try any of these five soothing blends for a dose of complete and utter bliss when it comes time to hit the pillow in the p.m.