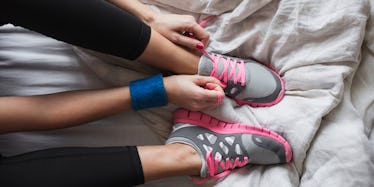 These Fitness Hacks Are Perfect If You Don't Have Time For A Full Workout Every Day
Real talk: Making time to work out when your life is incredibly busy and you're overwhelmed by day after day of long to-do lists is hard freaking work. Seriously, as ideal as it would be to actually have time to go to the gym or hit up your favorite workout class every day, it's just not always realistic. That's why incorporating easy fitness hacks into your daily routine is the most practical way to stay active without the commitment to an actual hour-long workout.
Having an "all or nothing" mentality when it comes to fitness isn't always the best way to go about a healthy lifestyle, especially when your schedule doesn't allow for lengthier sweat sessions on the reg. Whatever you're able to make time for in your schedule, it's best to just do it, even if you feel like it "wasn't enough." Seriously, the little things truly do add up in the long-term. According to a 2011 study published in The Lancet, just 15 minutes of exercise each day can be incredibly effective when it comes to improving overall health, and it can even help you live longer.
I'm willing to be that finding 15 minutes in your day is probably pretty doable, and it's even easier when you have a few simple fitness hacks to help you get the job done. Give these five hacks a try on those days when a long workout just isn't an option.