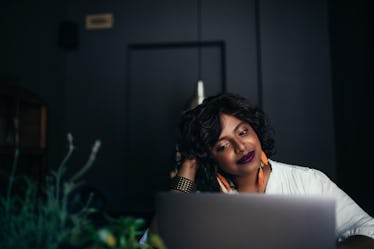 6 Simple Moves To Try If You Know That Sitting Down All Day Is Ruining Your Posture
Do you ever feel like your back is essentially morphing into a tortoise shell as a result of being slumped over a computer all day? Yeah, you take breaks away from the laptop, but then you just slump over yet again while you check your phone and scroll through Twitter. Poor posture from sitting is a real struggle guys, so making sure you stretch out and move periodically throughout the day should be at the top of your to-do list.
Along with a variety of other health concerns that might arise from too much chair and screen time, an effect on your spine health and posture is definitely something to look out for and take care of. But instead of focusing on the plethora of adverse physical symptoms of sitting, let's focus on the positive things that cultivating good posture can bring into your life!
According to the Mayo Clinic, good posture can boost your mood, improve your digestion, ease all those aches and pains in your body, and prevent injury. If you ask me, that all sounds like more than enough reason to begin a practice of walking with a book balanced on your head every morning, aside from the fact that I just low-key think that's really fun to do.
So, if you're worried about your possibly poor posture and your super sore back, fear not, as there are plenty of really simple moves and exercises you can incorporate into your day to help get your spine in line in no time.