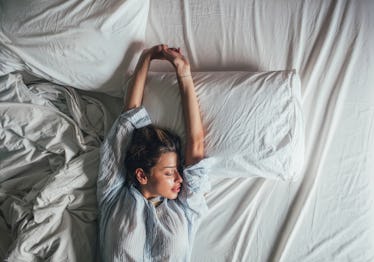 If Your Back Is Killing You, Stay In Bed & Move Slowly Through These 6 Gentle Stretches
So you woke up and your back is in an insane amount of pain. While you've simply been asleep for (hopefully) eight hours, it feels a little like you've been run over by an eighteen-wheeler, and getting up to start your day doesn't quite feel entirely possible yet. Fear not! There are stretches for back pain you can do right in the comfort of your own bed.
And believe me, you're not alone in your struggles; back pain is extremely common. According to the Global Burden of Disease report, back pain is, in fact, one of the most common reasons people have for missing work, as well as the second most common reason why people go to the doctor, second only to respiratory infections, or the typical cold.
Of course, this means being mindful about your back and spine health is super important, and you might need to take a little extra care to maintain mobility. If you're waking up in pain more often than not, consider working some of these gentle stretches into your routine each morning — not only to stretch, lengthen, and strengthen your muscles, but also to check in with yourself about how you're feeling and what does or doesn't feel good for your body.