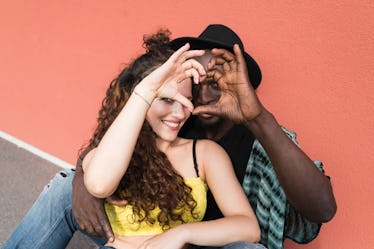 5 Dating Behaviors That Mean Someone Is Open To Falling In Love
Falling in love is an unpredictable, thrilling, sometimes terrifying experience. You can't force it, anticipate it, or control it — but when it happens, there's no doubt you'll know. That said, you have to be open to the possibility for love to bloom. Wondering whether your partner's heart has some space for you? Then you might want to look out for the specific dating behaviors that mean someone is open to falling in love.
There are a multitude of reasons why someone may not be open to the prospect. For example, if someone is still healing from heartbreak that happened at the end of their last relationship, they may not be ready to fall in love again. Or they may struggle with trust issues — and of course, love cannot grow or thrive without a foundation of trust. Knowing whether or not bae is open to falling in love can help you to determine whether you're both able to invest equally in the relationship.
"If you are at the point in your life where you are ready to settle down and be in love, you'll need to know if you and the person you are currently interested in are on the same page," Maria Sullivan, dating expert and vice president of Dating.com, tells Elite Daily.
Fortunately, these dating behaviors can provide some strong clues that your SO is ready and willing to fall head over heels.