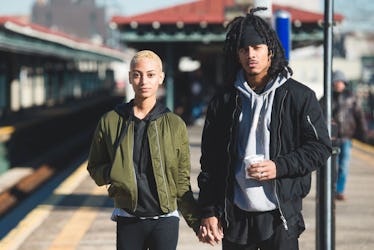 9 People Explain How They Got Over Trust Issues In Relationships, Because It's Not Easy
Being able to trust your partner is one of the most important qualities of any relationship. No matter how much you love someone, if you can't establish trust, keeping the relationship on solid ground is going to be difficult. Fortunately, having people explain how they got over trust issues can be a really helpful first step toward tackling your own.
According to NYC-based relationship expert Susan Winter, trust issues can have a huge impact on someone's ability to be fully comfortable and present. "When someone claims to have trust issues, it can mean that they cannot let go and relax in a relationship," Winter previously told Elite Daily. "People with trust issues don't believe good things can happen for them, especially in love. Their understanding of romance is that it's fraught with unpredictability, and dishonesty." Sometimes, negative experiences in the past are to blame for a lack of trust in the present. And while trust can't necessarily be built overnight, it can be nurtured and improved over time. If you're struggling to move on from past pain, don't panic. Learning to trust a new partner (or even a long-term partner who made a mistake) is possible. Here's how nine Redditors addressed trust issues in their relationships.