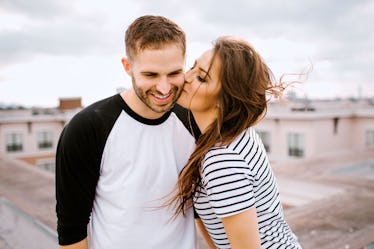 5 Creative Second Anniversary Date Ideas That Will Totally Impress Your Partner
There's a good chance you remember your first anniversary with your partner, from what you did to celebrate to how emotionally significant it felt. The first anniversary is a BFD, but that's no reason not to give your second anniversary your all. While there's arguably less pressure to celebrate your second anniversary in epic style than your first, it's still a great opportunity to celebrate your relationship with your honey, give them some love, and enjoy the milestone. To help you craft the perfect plan, here are a few creative second anniversary date and gift ideas, because your love is worth it. Traditionally, the second wedding anniversary gift is cotton. I know, I know, try not to get too excited. Since you're celebrating a dating anniversary, not a wedding anniversary, you're not bound by any constraints of tradition (not that you would be, anyway), so feel free to venture as far from cotton-themed gifts as you like!
Ideally, talk to your partner before your anniversary to get a sense of what they might be in the mood for or expecting from this milestone. They might be completely in the mood for a low-key day together, or they might be expecting a full day at the spa. Once you two agree on your approach to your anniversary, it could also be helpful to establish a price range for gifts, just so you're both on the same page. Read on for some out-of-the-box, cotton-free ideas for celebrating your second dating anniversary!