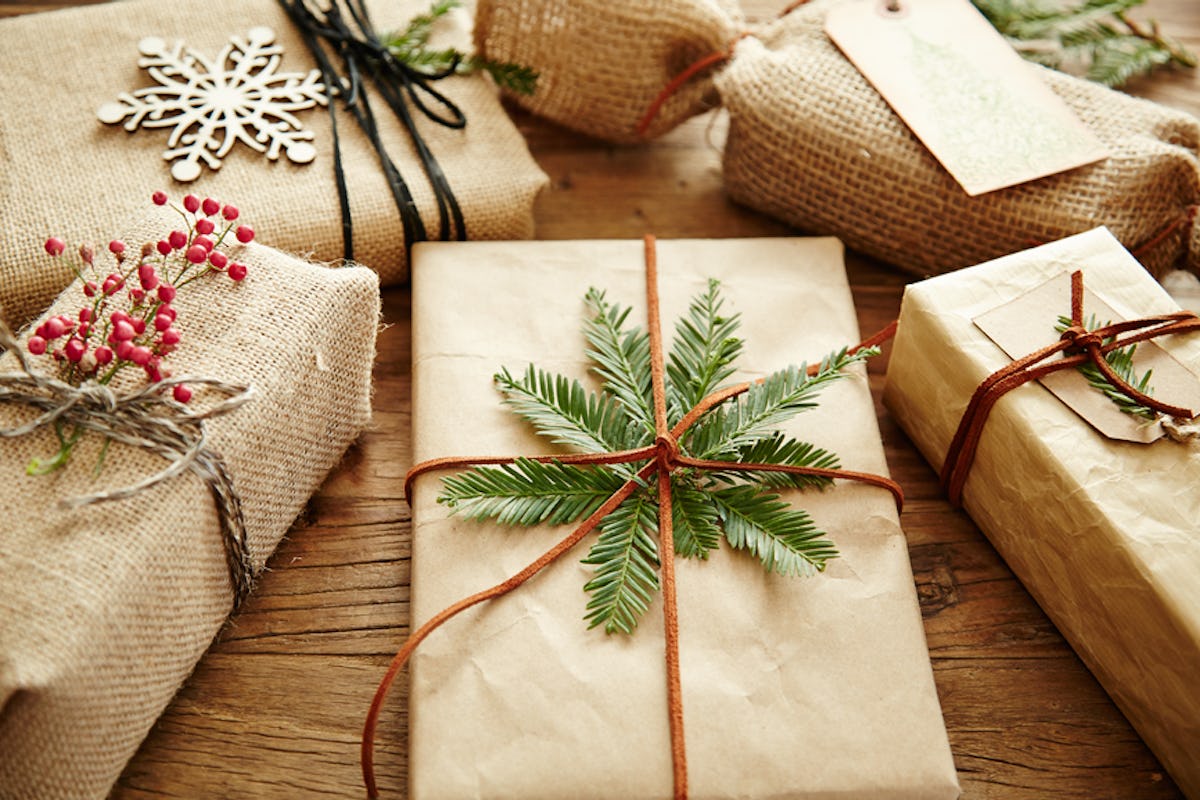 5 Creative Gift Ideas For The Couple Who's Been Together Literally Forever
Once you've been with someone for a certain amount of time, coming up with original gift ideas can take a lot of thought. After all, there are only so many homemade massage coupons a bae needs before they start to get bored. If you've been tirelessly trying to think of creative gifts to get someone special in your life, there's no need to panic. Deciding to drop some dough and really treat you partner to something special is never a bad idea, but depending on how much disposable income you have during the holidays, every Christmas doesn't need to be filled with expensive gifts.
A good rule of thumb when getting gifts for someone who could very well end up being your forever boo is to either save up for something that may be pricey, but that you know they'll love, or to go with something that might not be flashy, but is thoughtful enough to remind them that they're your number one. If you're observant, most people tend to drop a hint or two in the months leading up Christmas about what they want or need, but if your bae is a tough cookie to crack, then here are some creative gift ideas to bestow upon your long-term boo this holiday season.
1. Love Letters For Every Occasion
For all the long-distance couples out there, this one's for you! Trust me, I know firsthand how difficult it can be to be in a relationship with someone you aren't able to see whenever you want. This probably means that the time you do get to spend together and the tokens you exchange are particularly meaningful. A pretty touching way to show your partner how much you care is to write several love letters for different occasions (i.e. "open when you're missing me," "open when you're having a bad day," "open when we just had a fight," etc.). Even if you don't live super far away from each other, love letters really are a dying art form and are likely to be appreciated by the hopeless romantic type of person. Decorate them, put them in a nice box, and you're good to go.
2. A Bluetooth-Operated Jukebox
If the apple of your eye happens to be an old soul, then why not gift them an awesome throwback item, like this old-timey Jukebox with a contemporary twist. This mini version of the classic Jukebox might not have a rolodex of songs, but it does have a CD player, FM Radio — if they want to kick it old-school — the ability to connect to your devices via Bluetooth, and an auxiliary cord plug in. Not to mention, it makes an awesome accent piece for a bedroom or living room.
3. A Custom-Made Piece Of Jewelry
If your partner is the artsy type and you want to really wow them this year, why not get them a handmade or one-of-a-kind piece of bling that they will cherish forever? Although these options might be on the pricier side, imagine the look on their face when they realize how much effort and thought you put into it. Instagram and Etsy are both great places to browse artisanal jewelry. If having a custom piece made feels like too much of an undertaking, then another option is to pick out a ready-made piece and have it engraved with something special (i.e. your initials, the date you met, a nickname, etc.).
4. A Photo Album Documenting Your Relationship
Another gift that falls into the lovey-dovey category is a photo collage book to commemorate your awesome memories as a couple. Whether you want to go the handmade scrapbook route or the more contemporary route by using a graphic design app, either way, you will definitely win this season's most thoughtful partner award.
5. Something Meaningful From Their Childhood
If you've been with your boo for quite some time, then chances are, you've both gushed about the ins and outs of your childhoods. A sweet way to fill them with a ton of nostalgia is to hook them up with some of their favorite stuff from childhood. If they were addicted to the arcade, a vintage, handheld game console would be totally up their alley. If they have a ton of old polaroids, and they don't already have an instant camera, then it's time to hook them up!
Ultimately, we all know the saying "it's the thought that counts," and although that's definitely true, just because you've been with your partner forever, doesn't mean that you can or should slack on any opportunity to show them how much you care.
Check out the entire Gen Why series and other videos on Facebook and the Bustle app across Apple TV, Roku, and Amazon Fire TV.
Check out the "Best of Elite Daily" stream in the Bustle App for more stories just like this!