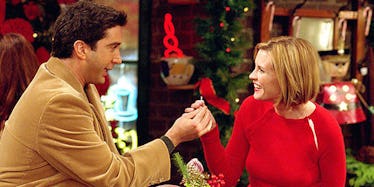 9 Unusual Gift Ideas For Your Friends Who Already Have Everything
Warner Bros. Television
Believe it or not, the holiday season is already here.
And you don't want to be caught at the last-minute struggling to find that one kind of lame gift, which just happens to be sold out everywhere.
No, you want to get your special someone something. Something that isn't commonplace or in all the commercials.
You want to choose one of these nine unique gift ideas for your special someone:
1. Chocolate Fountain
Who wouldn't love flowing waves of creamy chocolate?
Better yet, who wouldn't love to stop leaving the apartment at 12:30 am on a chocolate run? It's already there!
Chop up some fruit, throw in a few marshmallows and voila! Craving satisfied.
Amazon has all the chocolate fountain options you might want. The best part? You get to use it! It's a gift you still get full access to.
2. Hot Air Balloon Ride
How many people have ridden in a hot air balloon? The official answer is not that many.
You and your significant other have an opportunity to be one of the few, the proud, the ballooners!
800Soaring does hot air balloon rides all over the country, but there's also at least 50 balloon "clubs" across the US and Canada.
A quick Google search for "hot air balloon rides near me" should get you the best results.
3. Broadway Tickets
If you live in or around NYC, this might not be anything special. But for everyone else? Broadway tickets are kind of a big deal.
Scour Ticketmaster to find the show and time you think your special someone would like the most. And if making a trip to the Big Apple is infeasible (or if Hamilton is still unavailable), check out theatres close to you.
Every mid-major city has at least one with good shows.
4. Quesadilla Maker
Maybe you're different, but I don't know anyone who wouldn't want a quesadilla maker. Thanks again, George Foreman!
It's so unique, and a tad bit off-the-wall. It's perfect for game day or movie night, and there's a heavy element of fun in something this simple.
Quesadilla Maker, $24, Amazon
5. Jewelry
I know, I know, I know. Jewelry isn't the first thing that comes to mind when you think "original and unique."
But to quote Doug in "The Devil Wears Prada": "An accessory is a piece of iconography used to express individual identity."
Help your special someone tell the world they're is unique. Uncommon Goods, Artful Home and Novica all have some great finds.
6. Cruise
Who hasn't wanted to pull a "Christmas with the Kranks" and skip out for a tropical cruise vacation?
The holidays can be a magnificent time, sure. But so can bottomless drinks with the one you love.
Cruises off of Key West, Newport Beach and even the Bahamas don't have to cost an arm and a leg. I'm sure there's a place your SO wants to go. Why not take them?
7. Literally Anything On Etsy
Etsy is a hive for creative commerce in the most wonderful way.
I'm particularly a fan of the home decor, but there's just about anything you could think of for just about any personality.
And since individual artists, creatives and craftsmen upload their work to it, there's a bounty of unique and original gifts for your someone special.
8. Alarm Clock
Would your special someone rather wake up to a sunrise or wake up to freshly brewed coffee?
Because there are alarm clocks made to create both of those things at whatever time you need to wake up.
Let's be honest, how many other people would gift an alarm clock? This is how you stand out! (In a good way, of course.)
Philips Wake Up Alarm Clock, $50, Amazon
9. Alcoholic Decorum
Musical wine glasses are a thing. Customized decanters and glasses are, too. There's even wall-mounted liquor taps!
If you and/or your special someone drink at all, why not create a unique experience for the two of you? It's practical; it makes everything else more fun.
The holiday season is always a crazy time, but coming up with gift ideas doesn't need to be.
Take some or all of these off-the-wall ideas, and use them to delight that special someone in your life.
Musical Wine Glasses, $65, Uncommon Goods | Customized Decanters, $50, Uncommon Goods | Wall-Mounted Liquor Taps, $50, Sharper Image