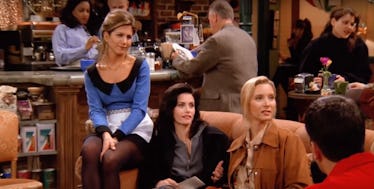 These Cool Coffee Shops In NYC Can Be Your Crew's Very Own Central Perk
Sometimes when I'm watching my favorite sitcoms (like Friends) I think about how cool it must've been to be part of the cast. I imagine what it must have been like to rehearse the catchphrases like, "How you doin'?" and film scenes like when the gang bantered over a game of poker in the first season. I even wonder if anyone kept a giant mug or a prop that reminds them of Central Perk. TBH, they could just go to these trendy coffee shops in NYC like Central Perk and declare any of them as the "new spot."
If they did that, then you and your besties would be there in a heartbeat, taking pictures in ~vintage~ outfits and having witty conversations over caffeinated drinks. After all, you've spent entire weekends together watching re-runs of the show, so you have the debates over who came up with the joke and whether or not Rachel should tell Ross that she's still in love with him memorized. At any given moment, you could break into "The Routine" or tell a couple that they're totally each other's lobsters.
Some may say that your obsession with the show is real, but you and your besties don't see a problem with knowing every episode by heart. In fact, you're about to go to the five coffee shops in NYC that are just like Central Perk for yourself, and make them your new spot.