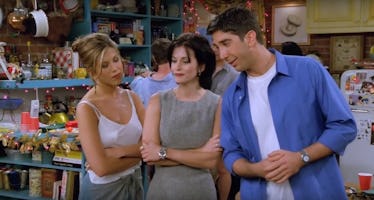 5 'Friends' Pop-Ups & Events For The 25th Anniversary That Aren't Moo Points
What would you do without your favorite sitcom, Friends? Personally, I think my Friday nights would be very boring without Joey and Chandler debating who gets the foosball table or ordering two pizzas. I would miss watching Rachel, Monica, and Phoebe wear wedding dresses and talking about relationships in that purple apartment. Truth is, this show is often one of the brightest parts of my day and I'm so incredibly proud that Friends is celebrating its 25th anniversary in Sept. 2019. If you're a true fan who feels the same, then check out the Friends pop-ups and events going on over the next few months. They're hardly "moo points."
In fact, they're quite the opposite. They let you dive head-first into the world of the crew. They let you sit in Central Perk and sip on coffee out of a giant mug. They let you relive and experience the scenes that always make you laugh, like the embarrassing first dates and cheesecake in the hallway. Most importantly, they let you celebrate the catchphrases, Christmas episodes, and bits of sarcasm as they turn 25 years old.
In the words of Ross, "I'm fine!" (Not really. This milestone actually makes me feel pretty ~vintage~.) Check out these Friends pop-ups and events, OK? I'm going to grab a box of tissues in the meantime.