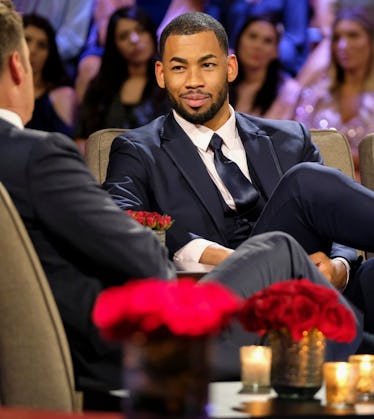 5 Clues Mike Will Be The Next Bachelor That Will Completely Convince You
ABC/John Fleenor
Hannah Brown's Bachelorette season is winding down, and although fans still have Bachelor in Paradise to get through, their group chats and online chatter are already packed with speculation about who the next Bachelor will be. Contestant Mike Johnson is a favorite to land the position, and with the final decision still several weeks away, viewers have already started finding clues that Mike will be the next Bachelor.
Mike, a 31-year-old portfolio manager, won over Bachelorette fans with his megawatt smile and his constant concern for how Hannah was feeling. There were plenty of moments that solidified his good guy persona: He stood up against the manipulative Luke P., he shared the traumatic story of his ex's miscarriage, and he was outspoken about his love of the women in his family. The Air Force veteran even took Hannah's rejection of him in stride, thanking her for her honesty and comforted her even while she was breaking up with him.
His graceful exit only added fuel to the fire that is the "Mike for Bachelor" Twitter campaign. In addition to possibly being the first veteran Bachelor, Mike becoming the face of Season 24 would also mark the franchise's first black Bachelor, two years after Rachel Lindsay served as the first black Bachelorette. Diversity in the franchise's leads is long overdue, and Mike's involvement would hopefully lend to a notable increase in contestants of color as Rachel's season did.
The new Bachelor probably won't be announced until early- to mid-September, but many fans are already convinced it's only a matter of time before Mike can officially hand out roses. If you believe otherwise, let's break down the hints pointing toward Mike becoming the Bachelor.