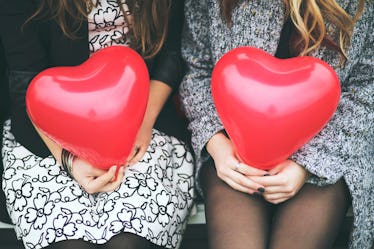 5 Cheap Things To Do On Valentine's Day, Because Literally What Is Money?
Remember the scene in the Sex and the City movie when Samantha Jones decides to make Valentine's Day dinner for her model boyfriend, the hunky Smith Jerrod? She spends the entire day rolling sushi and lays it all over her naked body as she waits for him to get home. He's late, she's upset, and it ends badly but the gesture is cute! If you're looking for cheap things to do on Valentine's Day, Samantha's sushi platter trick might be a little out of your budget.
But the truth is, it doesn't matter how much you spend on your Valentine's Day date, as long as you spend it with someone you care about and who cares just as much about you. Like New Year's Eve, Valentine's Day brings with it a long list of unrealistic, movie-like expectations that make us feel like failures when our real lives don't measure up. For the record, no one's real life is like it appears on TV or even on Instagram. You're much better off saving your money and doing something simple with your Valentine this year.
Here are five inexpensive Valentine's date ideas that you can enjoy without worrying about your wallet.
A Walk In The Park
Apart from any transportation costs you incur on your way here, this date is basically free. Spend a couple hours strolling hand in hand with your Valentine instead of fighting off hungry couples at that restaurant downtown.
A Laser Tag Duel
There are a couple ways you and your partner can work up a sweat together on Valentine's Day. This... is not the first one that comes to mind but it's still pretty fun. Who knows? Maybe after you're done playing a round of one-on-one laser tag, you can take the games to the bedroom.
A Romantic Movie Night At Home
Despite all the memes that say otherwise, "Netflix and chill" can actually be romantic. Lay out some blankets and your favorite bottle of wine for an intimate night in with your partner. There are tons of romantic movies on Netflix to choose from. I recommend Breakfast At Tiffany's or How To Lose A Guy In 10 Days.
A Coffee Date
I love coffee shop dates. They're adorable, cozy, and perfect for Instagramming. Take your partner out to your favorite, local coffee shop for a quaint breakfast date or an afternoon pick-me-up. Even if you splurge on fancy lattes and pastries, this date still won't cost you very much.
A Cooking Date (Where You Cook Together)
The problem with Samantha's Valentine's Day plan was that her partner didn't do his part. To avoid a similar mishap, choose a recipe for you and your partner to make together. It'll be way more fun than cooking them dinner all alone and it's the perfect excuse to get close to them. In the end, the dinner that you make for yourselves will be far more meaningful than anything you would have ordered at some pretentious restaurant.
Since Valentine's Day is barely two months after the holidays, you're probably not the only one working with a tight budget. Simple date ideas and DIY Valentine's Day gifts will definitely work in your favor — financially and romantically. It's a cliché, I know, but sometimes the most thoughtful date ideas are the ones that money can't buy. It forces you to be more creative... to think more carefully about what your partner actually enjoys. The end result is usually a date that is so sentimental, you and your partner will wonder why you ever tried to make Valentine's Day reservations in the first place.
Check out the entire Gen Why series and other videos on Facebook and the Bustle app across Apple TV, Roku, and Amazon Fire TV.
Check out the "Best of Elite Daily" stream in the Bustle App for more stories just like this!