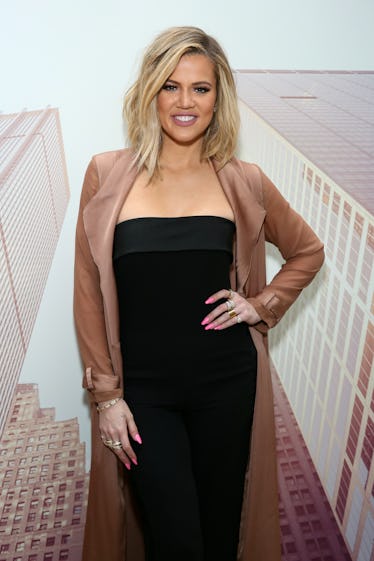 5 Times Celebrities Opened Up About Losing Their Virginity
Cindy Ord/Getty Images Entertainment/Getty Images
Do you remember your first time? Do you want to forget your first time? Apparently, celebrities aren't immune to having a ~story~ about losing their virginity, proving that maybe they're more like us than we initially thought. (JK, they still make millions of dollars and I struggle to find enough change in my wallet for a sandwich.) While they do live pretty amazing lives, some of their stories about losing their virginity are hilarious, cringe-worthy, and downright mortifying, while others had some pretty awesome v-card experiences (bastards!). These five celebrities opened up about losing their virginity, and you're going to want to read them ALL. Trust me.
1. Joe Jonas
In a Reddit AMA, Joe Jonas was asked the question, "Who did you lose your virginity to?" and, while that probably should have been a question he ignored, NOPE, he did not. And now, we all know a whole lot more about the singer and his sex life. He said,
I lost my virginity to this girl named Ashley. You can probably just Google it. It's pretty easy to figure out. I dated a girl named Ashley, so just Google it to figure out which Ashley that is. It's quite the great story because I didn't have any condoms, so I went to our drummer, Jack's room, who was my roommate at the time and I demolished his room looking for them. Found them underneath his underwear drawer. When he came home, he thought somebody broke into his room because his whole room was demolished because I was in dire need. Needed to happen then and now. Safety first, kids.
First, I just need to say that this is a pretty great "first time" story. Not having condoms, stealing them from a roommate, then having said roommate think his room was broken into because of the mess that was made while searching for condoms? BRILLIANT. 10 out of 10.
Also, he made it startlingly obvious that he was talking about his ex-girlfriend actress Ashley Greene. After his AMA, Greene posted to her Instagram, saying, "class is timeless":
Methinks she wasn't all that happy about Jonas divulging this personal information about their relationship. But now it's out there for the entire internet to see.
2. Ansel Elgort
Oh, sweet, sweet Ansel. It turns out that losing his virginity was like the way most people lost theirs: young, clueless, and with a few regrets.
In an interview with Elle, Elgort revealed that his first time was all about bad lighting and having zero idea what he should be doing:
I was 14. I had no clue what I was doing, and neither did the girl ... I didn't even make the lighting good. That'd be one thing I'd do differently. It was, like, fluorescent, bright bedroom light, like, over the covers.
I have a feeling that since his first time, he's gotten the hang of things pretty quickly.
(Gulps) No questions from me, sir.
Hey, is it hot in here? Is anyone else hot in here?
3. Britney Spears
Some of you may remember a time when Britney Spears and Justin Timberlake were America's sweethearts. They were madly in love, and proved it by wearing matching denim outfits.
God, what a time to be alive.
For those of you who may not remember, Britney Spears revealed that she lost her virginity to Justin Timberlake, despite initially wanting to save herself for marriage. In her interview with W back in 2003, she said:
It was two years into my relationship with Justin. And I thought he was the one. But I was wrong.
I can literally feel a chill in the air as we speak. Cold world, Justin. It's a cold, cold world.
4. Dwayne "The Rock" Johnson
Hey, have you guys met my boyfriend? And by boyfriend, I mean Dwayne Johnson, who, OK, is not my boyfriend, but if he just MET me, then things would change.
Anyway, where was I? Oh right. My boyfriend, Dwayne Johnson, had an interview with Elle and spoke pretty candidly on his entire experience losing his virginity. It's hilarious, but it also makes me pretty jealous because THIS IS MY BOYFRIEND WE'RE TALKING ABOUT, REMEMBER?
When asked if he would have done anything differently when losing his virginity, he said,
Um… I wouldn't have been so good at it? I mean, where do you go after that.… [Laughs] That's the A side to the answer. Now the B side to that is — I would not have been in a park. I would have preferred not to have been caught by the cops.
But it gets even better, because then he explains the story in full:
We shouldn't have been in the park in the first place. All of a sudden, a big spotlight came on us. Bang. You hear the cop roll down the window and say, "Ma'am, are you OK? Will you come to the car?" She gets dressed, comes to the car. They say, "Are you being attacked?" She says, "No, that's my boyfriend." It was a complete nightmare. [Laughs] Some stories are beautiful, but mine was not.
While I'm a little bit mad that he didn't lose his virginity to me, I'll forgive him in time.
(Checks watch) OK, yup, forgiven.
5. Khloé Kardashian
As I said, not every celeb's story about losing their virginity is a funny (or happy) one. Khloé admitted on The View back in 2010 that she had sex for the first time at 14 years old, and said she felt persuaded because the person she lost her virginity to was 18. She said,
I felt so disgusted with myself. I stopped talking to him and actually didn't have sex for three years after that because I knew I was young and I knew I wasn't ready. . . . I should have listened to my parents. Don't let anyone pressure you; it's not worth it and how I felt afterwards.
Luckily, we know that Khloé has finally found herself a loving partner in Tristan Thompson, and we can't wait for them to have their first child together.