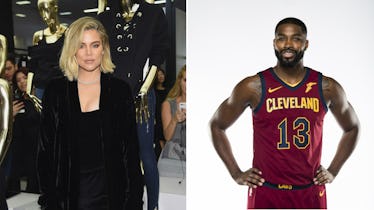 Khloe Kardashian Opens Up About Her First Kiss With Tristan Thompson & It's The Cutest
Jamie McCarthy/Getty Images Entertainment/Getty Images/Jason Miller/Getty Images Sport/Getty Images
There are fewer things in life I know to be true than Khloé Kardashian and Tristan Thompson's love for one another. They are so, so perfect for one another and I seriously can't wait for the birth of their child. And in true Valentine's Day fashion, Khloé gave her fans the best gift of all. Nope, not roses. Not even a teddy bear. That's right, Khloé Kardashian shared the story of her first kiss with Tristan Thompson, and now all my Valentine's Day dreams have officially came true.
How did we get so lucky? How did she know this is exactly what the world needed?
Because she's a damn superhero, that's how.
On her app, Khloé recalled her first kiss with Tristan, and I'm not going to lie: I feel as though it's so similar to almost everyone's first kiss with someone at some point in their life. She wrote,
I was so nervous. I liked Tristan so much. It was after a night of us hanging out and we were with a bunch of friends at one of their houses. We were all drinking and telling stories and just enjoying each other's company. I forget what led up to that moment, but I do remember that we both started kissing in the kitchen — in front of everyone. I think we were really passionate, so we made everybody a little uncomfortable, LOL! It was pretty magical! I never want to forget that moment.
YOU GUYS, THIS IS SO SPECIAL.
This sort of sounds like a first kiss with a high school sweetheart, does it not? Picture it: There's a house party, your friends are all drinking and hanging out in the kitchen, and you and your crush finally share your first kiss. BAM. Fireworks!
Anyone? Or was that just me?
OK, so maybe that was just me. But hey, Khloé and I are in the same first kiss club, so at least that's a small victory.
Khloé also shared her Valentine's Day plans with fans on her app, and it proves that she and Tristan are actual #couplegoals. It also proves that Khloé is one badass girlfriend who knows how to do something special for the man that she loves. She wrote:
We're both not very needy when it comes to this kind of stuff, so we're just going to go to my mom's and have a couples' dinner with my family. Cute, right?
She added,
But I'll be doing some cooking too! Tristan is Jamaican and he absolutely loves Jamaican food. He could eat Jamaican food seven days a week 365 days a year. His mom has been teaching me how to make authentic recipes, so I will be making him an amazing Jamaican meal earlier in the day.
A nice, low-key night in with some family AND preparing Tristan's favorite food? Khloé, you are crushing Valentine' s Day right now.
As if we already weren't aware of just how cute of a couple they are, she told her fans how she knew that Tristan Thompson was "the one" on her app, and her words will make you ugly cry. She wrote,
My answer for this probably doesn't apply to everybody, but I knew Tristan was the one very quickly — I have never felt so comfortable or so safe with someone. Because of that, I took it very slowly and was cautious about how I went about 'us.' I made sure we had very in-depth conversations. I wanted to make sure that those conversations were backed up by actions.
She also added that they "spoke about religion, children and [their] families," and she stressed the importance of knowing someone's beliefs if you're dating seriously. She added,
It's really easy to fall in love with someone during a honeymoon phase when you haven't yet discussed the logistics of life. But you have to talk about the real things if you want a real/long-lasting relationship.
Preach, girl!
So, what did we all learn today?
That Khloé Kardashian is basically the coolest girlfriend in the world.
K, bye!