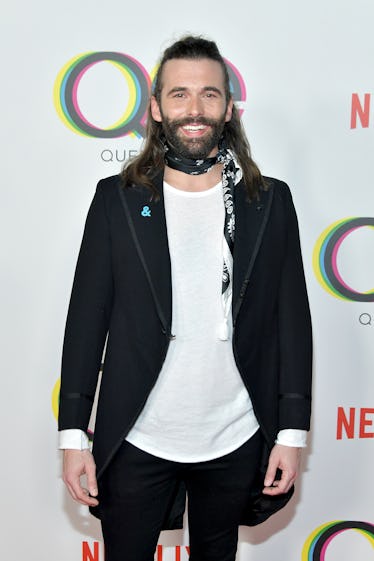 'Queer Eye's Jonathan Van Ness Dishes On His Biggest First Date Red Flags — EXCLUSIVE
Neilson Barnard/Getty Images Entertainment/Getty Images
First dates are 100 percent near the top of my list for weirdest experiences ever. I mean, just take a second to think about the concept objectively: You meet up with a stranger. You both talk about yourselves until you're either obsessed with each other, sick of each other, or you notice some big first date red flags and hightail it outta there. Then, you just repeat the same cycle with the same person or with a new person, until you decide you want to repeat it with the same person forever or no one ever again. That's how it goes. I don't make the rules.
But how do you spot any glaring first date red flags early on so you don't waste your time on a rando who doesn't deserve it? Well, you turn to the only trustworthy, pure, reliable source of information left in the world: the cast of Netflix's Queer Eye. Yes, believe it or not, aside from providing people with the makeover of their dreams, changing lives, and continuing to show the world that love is the most important thing there ever was, Queer Eye's Jonathan Van Ness is a low-key dating expert. Granted, I'm the only one who's given him that title as of yet, but I'm the one writing this article, so I get the final say.
Anyway, in all his expertise, Van Ness revealed to Elite Daily some of his biggest red flags on a first date that would make a second date a total no-go. Go ahead and write these down. You'll want to remember them on your next first date.