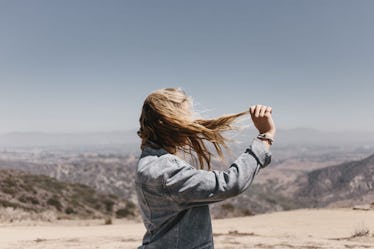 The Best Desert Trips To Take If You Don't Have A Ticket To Coachella Await
If you've been on social media within the past few days, then you know that it's music festival season. On the one hand, some of your besties, favorite influencers and fashion icons, and Instagram followers are heading to the desert for dancing and lots of picture taking. They're posing in front of the cactuses in Palm Springs and the pop-up shops that are set up in Coachella Valley, and wearing flower crowns for hours on end. On the other hand, you're at home and wishing you had a ticket to all of the excitement. I'm feeling the same way, but I also know the 411 on the best desert trips to take in the U.S. so that you can have your own adventure.
Truth is, as amazing as Coachella looks and sounds, grabbing a plane ticket somewhere else comes with its own unique perks, too. First, it allows you to explore another part of our beautiful country that may or may not have been on your bucket list. It allows you to go hiking amongst the red rock, go on a tour of the colorful canyons, or drive through the national parks during a potentially less popular time of the year. It also allows you to fill up your camera roll with adventurous pictures, and your wandering soul with stories from a one-of-a-kind weekend.
If you ask me, that sounds worth just as much as a golden ticket to Coachella, so I'm thinking of going to one of these five desert destinations in the U.S. Wanna come with?