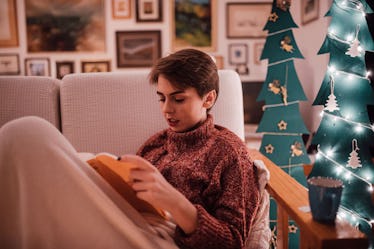 5 Romantic Books To Curl Up & Get Cozy With This Holiday Season
When was the last time you read something for pleasure? To be honest, it was probably over the summer, before the semester started or work became really busy. You dove head-first into a romance novel, or a humor book that made you laugh out loud at certain parts. (Has anyone out there read Amy Poehler's Yes Please? It had me rolling on the floor and re-watching my favorite episodes of Parks and Recreation.) But, since then, your reading has consisted of textbooks and emails. Girl, you need to relax this holiday with some of the best books to read over Christmas — and let them make your holiday season bright.
Trust me, these stories will sweep you off your feet and take you on a stroll through a winter wonderland. They'll wrap you up in an enchanted world and make you believe in magic — or just get your mind off of your own love life for a bit. You see, that's the beauty behind books and getting emotionally attached to characters created by a few words. With each turn of a page, you're transported to another time and place, and completely detached from any stress that comes with the holidays.
The difficult part of reading — in my personal opinion — is picking a book. It sounds like a simple task, but sometimes there are just too many options, especially when you haven't read in a while. Start with these five over Christmas break, OK?