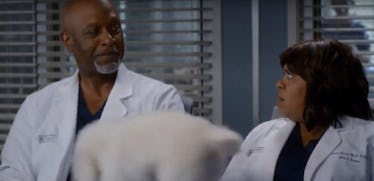 These Bailey & Richard 'Grey's' Moments Prove Having A Work BFF Is Everything
I think we can all agree that Richard Webber and Miranda Bailey are the real MVPs of Grey's Anatomy. These two have both run the hospital we have loved for over 14 seasons like champs. Not only that, but their friendship is one of a kind; it has made is laugh and happy cry so many times. Miranda Bailey is my icon, and Richard is the one who mentored her to become the incredible Chief of Surgery she is today. Watching these Bailey and Richard Grey's Anatomy moments shows just how much these two continue to make each other stronger.
Everyone knows that Grey Sloan Memorial Hospital is filled with so much drama. You have to find a good support system to help you get through the curveballs these doctors deal with on the regular. That is why these six Bailey and Richard moments will forever put a smile on my face. Sure, Cristina and Meredith totally ruled when Cristina worked at the hospital, but Bailey and Richard are the power duo that I really cannot get enough of. They prove that having a work wife is literally #OfficeGoals. Now, I'm just looking for someone to help me reach Chief status and be my best friend along the way.