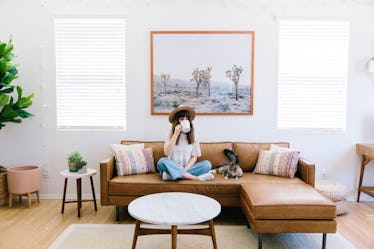 These Airbnbs With Cats Are Purr-fect For Your Next Trip
You know what would be a purr-fect way to spend your next trip to a bustling city or cozy small town? Checking into a home with a pet and spending your sunny afternoons lounging. You'd sit on a couch in one of many Airbnbs with cats on the market, and then head out to a trendy restaurant or aesthetically pleasing café to grab a bite to eat. It would be relaxing and memorable from the moment you'd walk through the door.
It would add a unique experience to your travel track record, like taking a surfing lesson in Hawaii or eating crepes under the Eiffel Tower. It would also give you an epic story to tell your besties once you got home. They'll likely appreciate hearing about how you cuddled with a sociable feline or sipped a cappuccino while enjoying the company of a bunch of kittens. They'll instantly have heart eyes when you show them pictures of cats sitting in bright windows and sleeping under skylights, too.
In fact, they may even decide to book one of these five Airbnbs with cats and see the most purr-fect places around the world for themselves. All puns aside, they do look pretty sweet and like somewhere you have to go to at least once. This sounds totally cat-tastic, if you will.