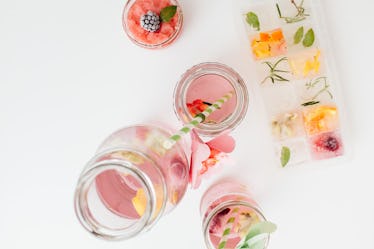 41 Frosé Instagram Captions For When It's Time To Relax & UnWined
It's time to stop and smell the rosé (or shall I say, frosé). With the sizzling summer temps creeping up on us, a frozen drink will most likely score an invite to every pool party and outdoor barbecue you have planned this season. If you're a pink drink lover, you'll want to get your hands on a refreshing frozen rosé cocktail (if you're 21 and up, of course). Not only is it a chill drink you'll want to be sipping on in the sunshine, but the bright pink hue will look fab in your drink selfies. So, when you're ready to post, you'll want a few solid frosé Instagram captions ready to go.
I'm telling you now, if you haven't tried frosé before, you are in for a sweet treat this season. Not only is it so refreshing to sip on a warm summer afternoon, but the added boozy kick will pump you up for Happy Hour on the regular. Get your girls together for a night with some blended frosé drinks, or just enjoy frosé ice cream while you're laying out on your rosé bottle pool float. Just don't forget your camera for all of the millennial pink picture opportunities. These 41 frosé captions will have you ready to post and get back to drinking your summer days away.
1. "Frosé is bae." — Unknown
2. "The cold never bothered me anyway." — Frozen, "Let It Go"
3. "Sip, sip, frosé." — Unknown
4. "Frosé all day." — Unknown
5. "Stop and smell the frosé." — Unknown
6. "You had me at frosé." — Unknown
7. "It's chill time." — Unknown
8. "Chill vibes." — Unknown
9. "Summer, the only thing frozen is my drink." — Unknown
10. "Of course I drink water. It's just frozen and blended with rosé." — Unknown
11. "Frosé the day away." — Unknown
12. "Where there's a will, there's frosé." — Unknown
13. "Wine that is pink in color makes me happy." — Unknown
14. "Everyone needs something to believe in, and I believe I'll have a frozen rosé." — Unknown
15. "Frosé to the occasion." — Unknown
16. "La vie en frosé." — Unknown
17. "Pink isn't just a color. It's an attitude." — Miley Cyrus
18. "It's a smile, it's a kiss, it's a sip of wine, it's summertime. Sweet summertime." — Kenny Chesney, "Summertime"
19. "We're cool for the summer." — Demi Lovato, "Cool for the Summer"
20. "I'll take frosé over roses today, thank you." — Unknown
21. "On Wednesdays, we wear pink." — Mean Girls
22. "Pink is my signature color." — Unknown
23. "I chill harder than you party." — Unknown
24. "Life is much easier when you just chill out." — Unknown
25. "Pretty in pink." — Unknown
26. "I'm on cloud wine." — Unknown
27. "Yes way, frosé." — Unknown
28. "Slay then frosé." — Unknown
29. "Sip happens." — Unknown
30. "The world looks better through frosé colored glasses." — Unknown
31. "Will you accept this frosé?" — Unknown
32. "Love the wine you're with." — Unknown
33. "Cool as a frosé." — Unknown
34. "Sure, I'll drink more water. Provided that it's frozen and with rosé." — Unknown
35. "The best wines are the ones we drink with friends." — Unknown
36. "Wine a bit. You'll feel better." — Unknown
37. "Wine flies when you're having fun." — Unknown
38. "Don't take things too seriously, and just chill." — Kailash Kher
39. "My personality is definitely calm and chill." — Sasheer Zamata
40. "Uncork and unwined." — Unknown
41. "I just rescued some wine. It was trapped in a bottle." — Unknown