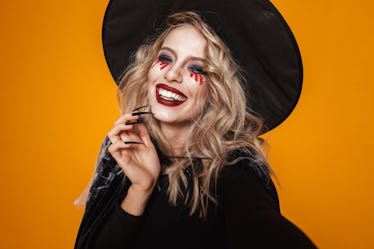 40 Clever Puns For Your Halloween Pics, Because You're The Punkin Queen
Halloween is creeping up quickly. Pretty soon, it'll be time to put on your costume, get down to the "Monster Mash," and hang with all of your favorite ghoulfriends. Even the days leading up to All Hallows' Eve can be filled with spooktacular plans, including pumpkin carving parties, streaming horror movies, and making candy corn treats. No matter how you decide to celebrate this chilling time of year, you'll want some clever Halloween puns for Instagram when you're ready to share your pics.
Even though puns can be pretty corny, you can always count on them to put a smile on your face. After all, the caption is what will take your Halloween selfie to the next level. Between doing your hair and makeup, to getting your costume ready to haunt, you won't have any time to spare to come up with punny captions. So for every #squadghouls pic you take with your friends when you're bobbing for apples or getting scared at a haunted house, use any of these 40 Halloween puns for your caption. I hope you have a hauntingly fun Halloween.
1. "At this Halloween party, I'm just here for the boos." — Unknown
2. "I'm the pun-kin queen this Halloween." — Unknown
3. "I've got a feeling that tonight's gonna be a gourd, gourd night." — Unknown
4. "I've decided to trick or treat myself to some Halloween candy." — Unknown
5. "I am not skull-king." — Unknown
6. "I'm all wrapped up in the Halloween spirit." — Unknown
7. "Just looking to eat, drink, and be scary." — Unknown
8. "Drink up, witches!" — Unknown
9. "Halloween puns are so candy corny." — Unknown
10. "My body too bootylicious for you." — Destiny's Child, "Bootylicious"
11. "Hanging with you is fangtastic." — Unknown
12. "Just creepin' it real." — Unknown
13. "I'm totally ghoul." — Unknown
14. "Haunted French pancakes give me the crepes." — Unknown
15. "I'm looking and feeling fa-boo-lous." — Unknown
16. "Boo-gie night!" — Unknown
17. "You've awoo'd me." — Unknown
18. "Yes, I drive a stick." — Unknown
19. "If you've got it, haunt it." — Rose Pressey
20. "Getting into the Halloween spirit." — Unknown
21. "Ghouls just wanna have fun!" — Unknown
22. "All these ghosts and I still can't find a boo." — Unknown
23. "In pumpkin we crust." — Unknown
24. "Hanging with my witches." — Unknown
25. "Let's get pumpkin smashed." — Unknown
26. "Happy meowoween." — Unknown
27. "Won't you be my boo?" — Unknown
28. #SquadGhouls — Unknown
29. "Come witch me." — Unknown
30. "Witching you a very haunted Halloween." — Unknown
31. "Can't wait until I'm witch and famous." — Unknown
32. "Have a spooktacular Halloween!" — Unknown
33. "Where my ghouls at?" — Unknown
34. "What a brewtiful morning!" — Unknown
35. "Oh my gourd, I love Halloween!" — Unknown
36. "Having skele-fun this Halloween." — Unknown
37. "I'm just exorcising my right to have fun." — Unknown
38. "I'm batty about you." — Unknown
39. "Let's get this party startled!" — Unknown
40. "Demons are a ghoul's best friend." — Unknown