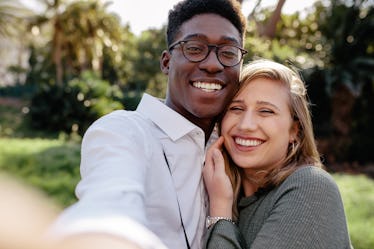 4 Zodiac Signs Who Don't Hesitate To Put Themselves Out There On Dates
Shutterstock
The hardest part of early stage dating, in my opinion, is gathering the courage to be vulnerable with someone you don't know well. My first-date getting ready ritual always includes a pop diva playlist, extra mascara, and a personal pep talk to remind myself to be bold. You see, as a Cancer, bravery doesn't always come easily for me, especially in matters of the heart. But some zodiac signs put themselves out there with no shame or reservation — and TBH, they've totally earned my respect.
Putting yourself out there on dates can go a long way toward helping you find what you're looking for. After all, relationships (or hookups or even friendships) can't progress until one or both people have the courage to say what they want and feel. And for some people, boldness just comes naturally. Maybe you have that one friend who always tells dates exactly what she wants, no beating around the bush. Or that other pal who always goes in for the first kiss if she's feeling flirty vibes. This is the level of fearlessness I aspire to, as I blast Lizzo and promise myself I'll be real about my feelings.
If you're one of these four zodiac signs, you aren't afraid to tell your dates exactly what you're thinking.