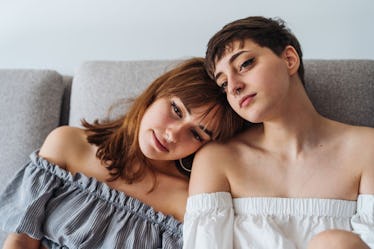 4 Zodiac Signs Who Love To Talk About Their Feelings In Relationships
There are quite a few zodiac signs that are pretty intuitive when it comes to their feelings, but not all of them know how to put what they feel into words. (Ahem, looking at all the Cancers and Scorpios out there.) When it comes to the zodiac signs who love talking about their feelings in relationships, you're probably thinking: Pisces, Pisces, and more Pisces. And you're not wrong! But there are a few other signs that are pretty decent at talking about how and what they're feeling, especially when it comes to potential love interests.
I started learning about astrology when I was in my mid-twenties. As I began to understand how to differentiate between each sign, I also discovered an interesting trend in my own life: Almost every single one of my best friends is a Pisces, along with three of my most significant past partners. I am a Gemini, and we're infamous for being misunderstood blabbermouths, while Pisces are renowned for being blubbering, emotional water signs. Maybe the two are a match made in heaven.
Read on to find out more about the signs that have a penchant for talking about their feelings in relationships.