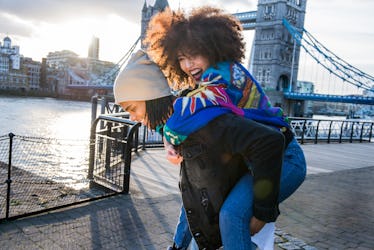 4 Zodiac Signs To Date If Travel Is Important To You
If fitting all your liquids into a quart-size bag is your personal nightmare, then traveling probably isn't your thing. Traveling (and jet lag, and economy flights, and maps...) can be exhausting, and some people would rather cruise through their Netflix queue than the Atlantic. But for the zodiac signs who love to explore, wanderlust trumps all the potential inconveniences of travel. Some signs live to plan vacations, take trips, and see new sights, so if travel is important to you, the zodiac signs to date are the ones who prioritize adventure over the familiar.
People tend to have different definitions of "vacation." For some people, vacation involves a pool, a margarita, and all-you-can-eat chicken fingers. For others, vacations are less about lounging and more about sleeping on a tarp and cooking beans over a campfire. No matter what your ideal trip entails, if you're the type of person who would rather spend your PTO days catching flights than catching up on your sleep, then you should probably find a partner who shares your passion. A few zodiac signs are happiest when they're creating travel itineraries and exploring new places, and if you like to travel, then you should probably date one of these signs.