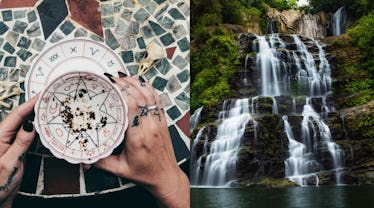 Here's Which Zodiac Sign Makes The Best Travel Buddy, According To Expedia & The AstroTwins
I don't know about you, but my travel plans are in full swing right now. Although spring just started, I'm already thinking about the sweet, sweet summertime. I'm hoping to fill up my travel schedule with beach trips and outdoor adventures. The first step in the planning process, for me anyway, is finding a friend who is down to go. I've traveled with most of my best pals before and each experience is little bit different. It got me wondering, "Which zodiac sign makes the best travel buddy?" Thanks to some new research from Expedia and The AstroTwins, I've found the answer to my question.
In case you're not familiar, The AstroTwins, Tali & Ophira Edut, are identical twin sisters who have authored several astrology books. The pair partnered up with Expedia to share their zodiac wisdom to help you determine which friend to travel with on your next vacation. Before you keep reading, make sure you know what your zodiac sign is. There are a total of 12 signs and you can use your birth date to help determine which sign you belong to. (I'm a Pisces.)
For the most part, astrology is all about compatibility. From romantic relationships to friendships, it can be used as a way to help guide you to find people who best match your personality. Now that you know what your zodiac sign is, check out these tips from The AstroTwins, in collaboration with Expedia.com, to help you plan a blissful getaway with the right person.