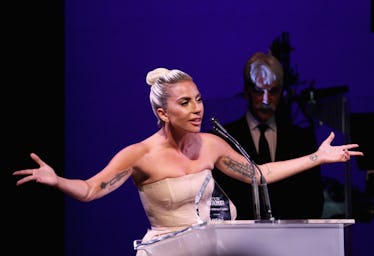 All The Inspiring Ways Lady Gaga Has Shown Support For Mental Health Awareness
Tommaso Boddi/Getty Images Entertainment/Getty Images
Mental health is an ongoing conversation, one that needs to be kept alive by people from all walks of life. After all, mental health struggles can affect anyone, and while the challenges that come with these conditions can be brutal, the best thing that anyone can do is to simply keep talking about it, and keep spreading awareness. Of course, mental health is almost always difficult to talk about in any context, but that's why I have such a soft spot for all the ways Lady Gaga has shown support for mental health awareness. She brings a kind of comfort and care to these discussions that, IMO at least, is truly unmatched. You can tell she's deeply passionate about these issues, and it's nearly impossible not to be moved by her words when you read what she has to say.
According to the National Institute of Mental Health (NIMH), roughly one in five adults in the U.S. is living with a mental health condition. More specifically, Johns Hopkins Medicine states that about 10 percent of American adults "will suffer from a depressive illness" each year, such as major depression or bipolar disorder.
Again, these are issues that can affect literally anyone. It's something we need to continue to talk about, and thankfully, Lady Gaga chooses to use her platform time and again to bring light to these topics. Here are four times she showed support for mental health awareness and proved what an awesome role model she really is.