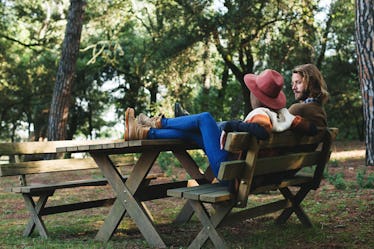 4 Things To Know About Your Partner Before Talking About The Future, So There's No Drama
In most long-term relationships, there may come a time where you and bae feel ready to talk about your future together. You're in love! If you could, you'd spend every waking moment together. You've never felt more ready to settle down with someone. This is all wonderful. But before you take that blissful step toward spending forever with each other, there are a few things to know about your partner before talking about your future. You may feel like you already know everything there is to know about your partner, and that may be true. But I spoke to two experts, and they recommend making sure you know these four things before diving head-first into the deep end that is your future.
As tempting as it may be to start talking about your future with bae before discussing any of these things, it may end up hurting you both if down the road, you discover that you want or value different things. "You shouldn't get engaged unless your core values align, since compromising on what's most important to you always leads to resentment," Samantha Burns, relationship coach and author of Breaking Up & Bouncing Back, told Elite Daily. She's right: There's only so much someone can compromise on before they may begin to feel like they're giving up too much.
It's important to know not only that you and bae feel ready to spend forever together, but also, that you see eye-to-eye on the things that you may encounter as you move into your future together. Make sure you know these four things before talking about settling down.