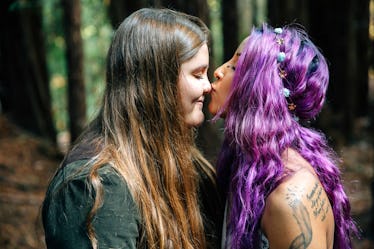 If Your Partner Asks You These 4 Questions, They're Figuring Out If You're The One
How do you know for sure if someone is "the one"? Part of it is something you feel in your gut and in your heart. But still, before entering a life-long commitment, you should probably do your due diligence. If you can really picture a future with someone, you should be sure that you're actually on the same page about what exactly that future looks like. If you feel like your SO is wondering the same thing about you, there are some questions your partner will ask you before committing that will not only set their mind at ease, but actually offer a window for you to know where their mind is at. This way, you can start asking some of the same questions, too.
But what exactly will they be asking? According to Damona Hoffman, host of the Dates & Mates Podcast, when someone is figuring out if you're really the one for them, "they will ask questions that have to do with blending your lives in a meaningful way around issues like family, finances, and future plans." In other words, the big questions. Here's what you're going to want to be on the lookout for.