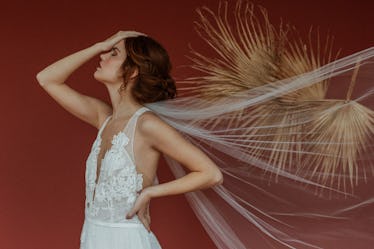 4 Things To Know About Wedding Dress Shopping Before You Go, So You're Ready
Let's be honest, some aspects of wedding planning are just a lot more exciting than others. Picking wines to serve is way more fun than assigning guests to a certain table number (unless you're Monica Geller). Buying your wedding dress, for example, is one part of wedding planning that a lot of people look forward to. In fact, a lot of women already have their dream dress picked out, before they even try on their first gown or even before they get engaged. However, there are still certain things to know about wedding dress shopping before you head out. Obsessively looking on Pinterest and watching Say Yes to the Dress can give you some great ideas, but that won't teach you everything you need to know.
For a lot of brides, buying the perfect wedding dress is something they've looked forward to for months, and sometimes years. It's a big deal, and no matter what kind of dress you want, you're going to have options. The wedding dress industry has come a long way in providing more styles, price point options, and sizes than ever. Basically, it's the perfect time to be a bride.
Before you hit the boutiques, whether solo or with your friends and family by your side, keep these tips in mind, because your experience should be as lovely as you are.