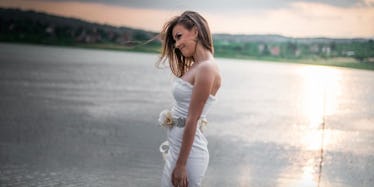 These 20 Photos Of Stunning Wedding Dresses Are All The Inspo You Need
Getty Images
From the invitations and the venue to the cake and the decor, there's a lot that goes into planning your wedding.
But I think most brides would agree finding the perfect dress is the most important thing by far.
Getting married and living happily ever after is something most girls dream about their entires lives.
But the whole thing usually doesn't feel real until you slip into that stunning white gown and make your way down the aisle.
If you ask me, your wedding dress is like the main act of the event, so you're definitely going to want to wear something that will steal the show.
From non-traditional two pieces and bohemian bridal gowns to Cinderella-esque tulle skirts and dazzling vintage dresses, there's a seemingly endless amount of breathtaking dress styles out there.
So we set out to find a bunch of gorgeous gowns that are pretty much guaranteed to make you fall head over heels.
Take a look at the pictures below to see these incredible wedding dresses.
You can't go wrong with a traditional tulle dress...
An ethereal wedding outfit...
A sparkly gown that's not afraid to take the plunge...
A mesmerizing mermaid tail...
...or a tantalizing two piece.
You can say "I do" in a gown that's fit for a goddess...
Transform yourself into a modern day Cinderella...
Opt for an enchanting illusion dress...
...or take everyone's breath away with a beguiling backless gown.
If you're looking for a vintage vibe, you can't go wrong with an embroidered ensemble...
Some captivating cap sleeves...
...or a dazzling dress that looks like something straight out of "The Great Gatsby."
Just look at this lovely boho bride...
These delicate lacy details...
This sleeveless silk dress...
This edgy hi-lo ensemble...
This contemporary wedding couture...
...and these embroidered bell sleeves.
This sleek silhouette is guaranteed to turn heads...
...and don't even get me started on this jaw-dropping gem.