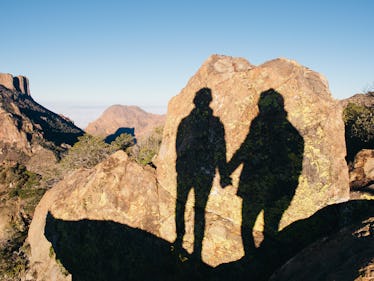 4 Low-Key Spring Break Ideas That Are Great For Couples On Any Budget
There's no denying that going all out and splurging on the spring break trip of your dreams is something everyone should experience at least once during the course of their life. But let's be real: All of those couples you see posting pics of their lavish spring break trips had to shell out some serious dough. And while that may certainly be the dream, there are also plenty of other amazing spring break ideas for couples who aren't looking to spend a small fortune on a week of partying in an exotic locale.
While it might seem like everyone is off to Cancún, The Bahamas, or some other tropical paradise, the good news is that you can have just as much fun without spending nearly as much. With a little bit of creativity, this year's spring break will definitely be a memorable one for you and bae, with the added bonus of keeping some money in the bank. Now, depending on what region you live in, you may have more or less "traditional" spring break options available to you, but that doesn't mean you can't have a good time. When all is said and done, the whole point of spring break is to have fun and rest up so you can come back feeling good and ready to finish off the first half of the year with a bang.
1. A Camping Trip
For all of the outdoorsy baes out there, what could be better than spending your off days hiking through one of the country's gorgeous national parks and spending your nights cuddled in each other's arms, gazing at the stars. Sound nice? Well, if you play your cards right and plan ahead, camping can actually be surprisingly affordable, especially if you are willing to really rough it in tents.
2. A Road Trip
If you and your partner have yet to take a road trip together, then you definitely should consider making this the plan come spring. If you're really feeling adventurous, then come up with six cities you'd both be interested in visiting and pick one out of a hat. Now, all you need to do is make a few solid playlists and come up with some fun games to play in the car, and you're on your way.
3. A Staycation
If money is really tight or the thought of having a restful week off sounds more like your style, then why succumb to any pressure to leave your bed? And if you can muster up enough energy to do something, why can't that something be building a fort with sheets and pillows right in front of the TV? All you have to do is stock up on food and queue up a few hot new series on Netflix. By the end of your trip, you and bae will be feeling recharged AF.
4. Florida
If the voices in your head telling you that you have to be smack dab in the middle of the "fun in the sun" to enjoy your spring break just won't quit, you just might be able to find affordable roundtrip tickets to the Florida beaches if you set a price alert and book ASAP. Now, of course, you still need to factor in a place to stay. Seeking out a bedroom or guest house on Airbnb is typically loads cheaper than a hotel. Motels and hostels are also doable if you're willing to seek out the bargains.
Despite what we've been led to believe, spring break actually doesn't have to break the bank. Why not spend this year doing something slightly more low-key and save up for an even bigger trip come summer? In the end, as long as you're doing something fun with your bae, you're pretty much guaranteed to have a nice time.
Check out the entire Gen Why series and other videos on Facebook and the Bustle app across Apple TV, Roku, and Amazon Fire TV.
Check out the "Best of Elite Daily" stream in the Bustle App for more stories just like this!