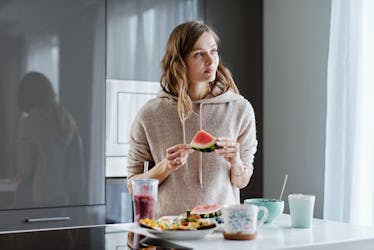 If You're Always Sleepy AF In The Afternoon, These 4 Snacks Will Wake You Up
Every day at about 3 p.m., I turn into a bit of a snack monster. I suddenly develop a desperate need for something, anything to munch on, no matter how filling my lunch was. If I haven't planned ahead with plenty of healthy snack options, I usually reach for something sugary, which causes me to crash soon afterward. If you know the struggle of a midday snack attack, too, the best thing you can do is arm yourself (and your kitchen) with snacks for an afternoon slump whenever that relentless hunger strikes.
Whether you're making your own tasty snack recipes for the upcoming week or shopping for healthy options in the grocery store, Lyuda Bouzinova, an ACE-certified fitness nutrition specialist, personal trainer, and co-founder of Mission Lean, recommends sticking to a simple guideline to make sure you're as energized as possible. In short: Choose foods with recognizable, whole-food ingredients. "What you want to stay away from is anything unnatural, processed, and that comes in packaging with messages that promise to give you extra energy," Bouzinova tells Elite Daily over email. "Those drinks and snacks are often loaded with caffeine, sugar, and other far worse unnatural ingredients that may harm your health in the long run, and make you crash terribly in the short run."
So if you need a little help figuring out what to reach for come 3 p.m., here are the foods that'll replenish your energy, rather than steal it.