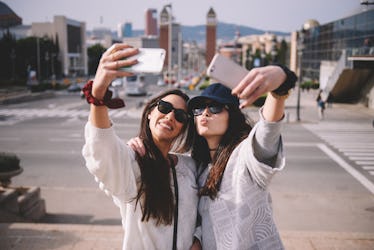 Here's How To Know You're Finally Ready To Be Friends With An Ex
Letting go of a romantic relationship with an ex is no easy feat. But, believe it or not, if both of you can manage to leave the past in the past, it is possible to maintain a friendship with them. If you notice the signs you're ready to be friends with your ex, this could mean a platonic relationship is on the horizon. According to NYC-based relationship expert and love coach Susan Winter, once you've both taken the time and space to heal from your breakup, you might find that having a friendship with an ex feels surprisingly natural.
"Being friends with your ex may prove more rewarding than when they were your lover," Winter tells Elite Daily. "As friends, all the tension is gone and you can relax. Now that the romantic element has been removed, you may find yourself enjoying their company to a far greater extent." Let's face it: Not everyone you date is going to be a good match. That said, you can still enjoy the elements of their personality that you found initially attractive. Just because a relationship didn't work out romantically, doesn't mean you can't still be part of each other's lives. If rekindling a friendship is something you're both interested in, here are some signs that it's time to give a platonic relationship a chance.