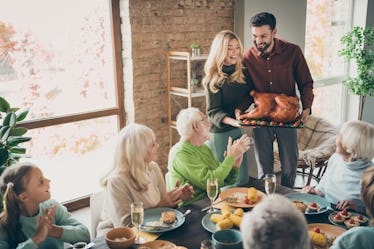 4 Signs Your SO's Going To Propose On Thanksgiving, No Wishbone Needed
Shutterstock
Thanksgiving isn't just a time for reuniting with your nearest and dearest and feasting on a hearty meal — it's actually a pretty popular time to pop the question. And luckily, searching high and low for a suspicious jewelry box isn't the only way to tell whether or not your boo has a romantic scheme up their sleeve. As the holiday approaches, you can also look out for certain signs your partner is going to propose on Thanksgiving.
You're bound to see countless "I get to marry my best friend!" posts and engagement ring selfies around the holidays. In fact, according to the Brides American Wedding Study, a whopping 28% of women got engaged on a holiday or other special occasion in 2018, compared to just 12% in 2017. That doesn't just include Christmas, New Years, and Valentine's Day, either. Many people opt to propose on Thanksgiving, as well, and with good reason. Think about it: It's a holiday that centers around gratitude. So, if bae is feeling thankful that they found "The One," they may very well use that theme as an opportunity to propose. Plus, the people who matter most to you are conveniently there to celebrate.
"Thanksgiving is a pretty popular time to propose because the family is all together," Susan Trombetti, matchmaker and CEO of Exclusive Matchmaking, tells Elite Daily. "If you want to do it in front of your or your SO's loved ones, it's perfect."
Starting to suspect that your boo is planning a Thanksgiving proposal? Then keep your eyes peeled for these signs that you'll have a serious question to ponder this holiday (aside from whether you want a second serving of pumpkin pie, of course).