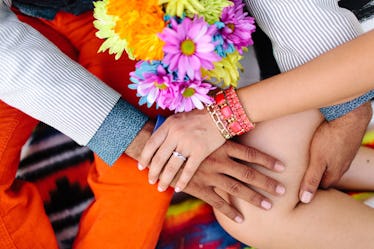 30 Captions For Your Engagement Ring Pics That'll Make Your Feed Sparkle
With bae, love is always in the air. So, when the love of your life gets down on one knee and presents you with the most beautiful ring you have ever seen, there's no doubt a Kodak moment is about to unfold. (And girl, you're on the road to Wifey Town.) You're going to be speechless, but these Instagram captions for engagement rings should help you assemble the heartfelt words when you want to share your big life update with the world.
Who has time for words when you're busy smooching the heck out of your fiancé? (That sure has a ring to it, doesn't it?) Getting engaged is such a beautiful surprise, and your partner likely did it in the most romantic way possible. Maybe they popped the question in front of all of your friends and family, or they took you back to where you first met. Whichever scenario, that time and place is now marked by how you became the happiest woman in the world.
Everyone is going to want to take pics with you, your bae, and the rock, but that one pic of you surprised beyond belief is going to be the winner for sure. Your engagement is one to be celebrated to the max, so when you are sharing your special moment with your followers on the 'Gram, add an extra sparkle to that rock with any of these 30 captions.
1. "Your heart and my heart are very, very old friends." — Hafiz
2. "Out of all of my fingers, this one is now my favorite." — Unknown
3. "Here's one more thing to add to the list of things that light up my life." — Unknown
4. "Your girl is getting hitched." — Unknown
5. "Happiness is anyone and anything that's loved by you." — Charles M. Schulz
6. "Does this ring make me look... engaged?" — Unknown
7. "Engaged? It sure does have a ring to it." — Unknown
8. "He stole my heart, so I'm stealing his last name." — Unknown
9. "Who knew, the fairy tales were right." — Unknown
10. "This is what dreams are made of." — Hilary Duff, "Hey Now"
11. "My precious." — Gollum, Lord of the Rings
12. "He put a ring on it." — Unknown
13. "It's like I have a shooting star on my finger. I could get use to this." — Unknown
14. "Is this the part where I say, 'He went to Jared'?" — Unknown
15. "Our love is going to outlast every single one of these diamonds." — Unknown
16. "Today, I got a piece of jewelry I never intend to take off." — Unknown
17. "Can I relive this moment a million times?" — Unknown
18. "My life just got a lot more sparkly." — Unknown
19. "Today's forecast is shiny with a 100 percent chance of marriage." — Unknown
20. "Does this mean I'm flossin'?" — Unknown
21. "Pardon me while I shine a little brighter for a bit." — Unknown
22. "I've got the whole world on my hand." — Unknown
23. "Every time I look down at this ring, my heart skips a beat." — Unknown
24. "This feels so unreal. Someone wake me up." — Unknown
25. "And so our adventure begins." — Unknown
26. "Once in a while, right in the middle of ordinary life, love gives us a fairy tale." — Melissa Brown
27. "Every love story is beautiful, but ours is my favorite." — Unknown
28. "Dreams really do come true." — Unknown
29. "Hopefully this ring is waterproof, because I can't hold back my happy tears." — Unknown
30. "I'm so ready to be a wifey." — Unknown
This post was originally published on July 11, 2018. It was updated on Sept. 6, 2019 by Elite Daily Staff.