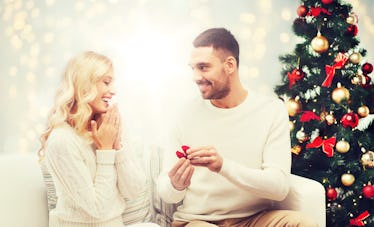 18 Captions For Your Christmas Engagement Ring That Are Too Sweet For Words
The most wonderful time of year hardly describes the feeling you have when bae pops the big question and presents you with the rock on Christmas. It's perfect, shiny, and even time subtly pauses as you put it on your trembling finger. Instagram captions for Christmas engagement ring get us all up in our feelings every year, and now it's your turn to pull at the heartstrings of your followers.
The moment won't last forever, but you're going to remember it, and Christmas will be seen totally different now. Somehow, if it can all fit, you need to express that in the caption you pair with that glorious picture of the rock. Once your heart stops racing and you can stop kissing your future hubby for a sec, you'll really be able to knuckle down and find a caption that goes perfectly with your moment.
Your emotions are going to be everywhere, but every time you glance down at that glistening signal of love and a new chapter of your life, you'll know your hysterical crying was worth it. Share that magical feeling with everyone, because you know you want to. Getting proposed to is different for everyone, but a blurb like any one of these captions will surely reiterate what this ring really means to you and your future.
1. "This Christmas is a lot more sparkly and shiny than usual." — Unknown
2. "Give a man a finger, he'll put a wedding ring on it!" — Ljupka Cvetanova
3. "Marry Christmas." — Unknown
4. "It is mine, I tell you. My own. My precious. Yes, my precious." ― J.R.R. Tolkien
5. "Once in awhile, right in the middle of an ordinary life, love gives us a fairytale." — Unknown
6. "A wedding ring is a symbol of commitment; a promise, a pledge, and a vow. The promise is to forsake all others, to stay devoted and true; the pledge is to honor that promise selflessly, to see the whole thing through; and the vow is to keep that pledge unwaveringly, until the days are few. It is a mutual agreement to become one instead of two." — J.W. Lord
7. "The wedding ring goes on the left ring finger because it is the only finger with a vein that connects to the heart." — Unknown
8. "Our story is unique. Our engagement is unique. Our ring is unique. So our wedding should reflect us." — Mark Robinson
9. "Love begins in a moment, grows over time and lasts for eternity." — Unknown
10. "I may have just unwrapped the best gift of all." — Unknown
11. "Happiness is anyone and anything at all, that's loved by you." — Charles M. Schulz
12. "The minute I heard my first love story I started looking for you, not knowing how blind that was. Lovers don't finally meet somewhere. They're in each other all along." — Mawlana Jalal al-Din Rumi
13. "When you realize you want to spend the rest of your life with somebody, you want the rest of your life to start as soon as possible." — When Harry Met Sally
14. "Love has nothing to do with what you are expecting to get only with what you are expecting to give — which is everything." — Katharine Hepburn
15. "We loved with a love that was more than love." — Edgar Allan Poe
16. "True love stories never have endings." — Richard Bach
17. "He stole my heart, so I'm going to steal his last name." — Unknown
18. "I will forever be there to laugh with you, to lift you up when you are down and to love you unconditionally through all of our adventures in life together." — Unknown
Ultimately, getting engaged on Christmas is one of the most magical things ever. Don't get too pressed on how to present your moment to others, and simply soak up every second of it.