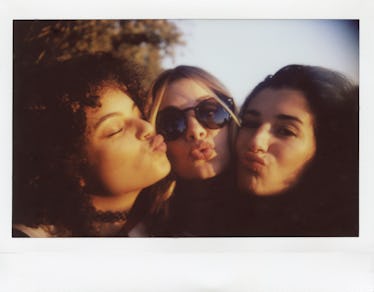 4 Signs Your Partner Isn't Really Your Best Friend, Even Though You Love Them
Down the occasional (read: weekly) rabbit hole of YouTube, there are a bunch of videos entitled, "Best Friend Versus Partner Challenge." YouTubers create trivia about themselves, then test their best friend and their partner — two separate people. Their best friend often wins, gleefully reminding their Vlogger pal that perhaps, your partner isn't really your best friend.
From knowing Real Housewives of Beverly Hills gossip, to having thrift shop skills, I'm pretty clear on the lines between best friend and partner. However, my own parents, like every rom-com ever, and plenty of my friends in long-term relationships stand by the idea that your partner is in fact, your best friend. When looking for the distinction, my mind usually follows on: preparing for a date vs. going on a date. In the first scenario, I'm throwing shoes around my bedroom, blasting angry feminist 90s music, (over)thinking what I'm going to order, with my best friend on FaceTime. In the second, I'm in an effortlessly cool outfit (the one that took an hour to plan), charmingly talking about women in punk music, eating a kale salad that I before pre-Googled the price of.
While I'll eventually feel more comfortable as my relationship progresses, my partner will never know about the nine different shops I went to looking for their birthday present, or that I cried in my shower when I thought they ghosted me that one time their phone broke. What can I say? For me, some things are just best friend territory.
I spoke with Relationship and Wellbeing Coach, Shula Melamed MA MPH, about the nuances between best friends and partners — and the signs that while you love your partner, they're just not your BFF.