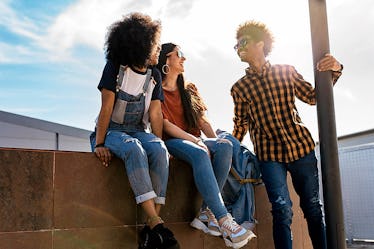 Experts Say Your Partner Doesn't Have To Be Your BFF For These 3 Important Reasons
I always assumed that when you were in a serious relationship, your partner became your best friend. Of course your other friends were still in your life, but your SO was at the center of it, and that was that. Rom-coms always made it seem that way, and every other person on Facebook and Instagram captioning their photos with, "So happy I'm in love with my best friend," didn't shut down the idea either. But it doesn't have to be that way, and there are plenty of reasons your partner doesn't have to be your best friend.
Having your partner as your best friend seems like a really great concept. Besides, those are often two of the most important people in your life, so why not combine the two jobs into one? That way you can turn to the same person when you want to be romanced and when you want to rant about some b*tchy thing your boss did. But if you think about it, if your partner and best friend are the same person, who do you turn to when you're upset about something bae did? Or when you want to surprise your partner with something, who's going to help you plan it? Who's going to be able to relate to you, personally, about the situations that your partner can't?
While there's nothing wrong with your partner being your best friend, it's important to remember that your BFF and your SO don't have to be the same person. In fact, it may be better to have separate people for separate things. "You can have a best friend who you can absolutely tell anything to, without judgment," Fran Greene, Licensed Clinical Social Worker and author of The Secret Rules of Flirting, tells Elite Daily. "You have a best friend who loves to go out to dinner with you. You have a best friend that when you are so sad, that person is always there to pick up your spirits. A best friend when you have a really difficult decision to make, they'll be there to help you. It's nice to have different best friends who you can call for different reasons." So, it's totally OK if your partner is not your best friend. Here are three reasons why they don't have to be.