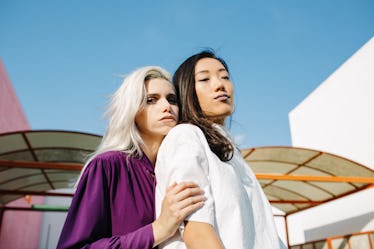 6 Ways To Keep Your Friendships Strong When You're In A New Relationship
"Hos before bros," "Venus before penis," and "besties before testes." These are all delightfully colorful ways to describe how very important friends are and how no man — not even Jason Momoa with The Rock as his wingman — could ever come between you and your crew. That is until you find yourself in a new relationship, madly into your new love, and you might have to ask yourself... are you ditching your friends for your boyfriend or girlfriend?
No. No way. Not you. Plus, even if you were prioritizing your new relationship, your friends will understand and be there no matter what, right? Shasta Nelson, friendship expert and founder of Girlfriend Circles, explains, "There are three aspects that make up every relationship: positivity, consistency, and vulnerability. Consistent interaction is the backbone of every relationship." So while you make room for a new romance in your life, Nelson suggests that you take time to consciously figure out what your new routine with your friends looks like. She even suggests having a frank conversation with your friends about this and making it a team effort! Read on to find ways to help ensure you and your crew stay close, no matter what.