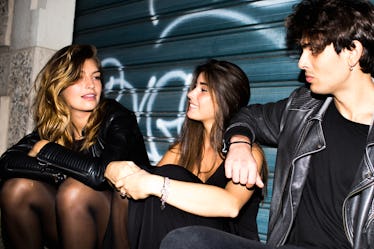 5 Red Flags You're Ditching Your Friends For Your New Relationship & How To Fix It
When you're single, finding time to be a good friend is pretty easy. For the most part, your time is your own and come the weekend the only thing on your agenda is to turn up with your crew. But once you're in a relationship, it can be all too easy to start accidentally neglecting your friends while shifting your priorities completely toward your new boo. The signs you're ditching your friends for your new relationship might not seem all that obvious to you because, after all, you're the one who's doing the ditching. And while you most definitely should be enjoying yourself, putting your friends on the back burner can certainly lead to some trouble.
While the urge to put all of your focus on a new love can be pretty tempting, forgetting about the friends who have been there for you long before your new bae waltzed into the picture could really hurt their feelings. Romantic relationships come and go, but friendships are something that carry us through the bad times and make the good times even better. So if you're wondering if you've totally been ditching your friends, here are six red flags that may definitely be the case.