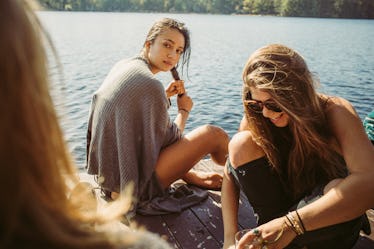 7 Subtle Red Flags Your Bestie Is Pissed At You, Even If They Say They're Fine
The more you love someone, the more you may be able to see their vices and realize what annoys you about them. Of course, if this person is your best friend, then you still have a really great relationship. You may fight occasionally, but you wouldn't trade them for the world. You're able to get past certain things that you may stew over with a casual friend. That being said, there are definitely signs your best friend is mad at you, and despite knowing them like the back of your hand, you may also not notice these things.
Best friends are usually quite open with each other and able to tackle anything. You've been through some lows together, but of course have had your amazing highs. You love each other to the moon and back (and then some), and you are there to really root for and support each other until the end. It's really hard when you're fighting with your best friend, though. Like, really difficult. And sometimes, you think you've resolved an issue, but in reality, that may not be the case. Here are some ways to tell if your best friend is still angry with you, so that you can officially resolve the mess.