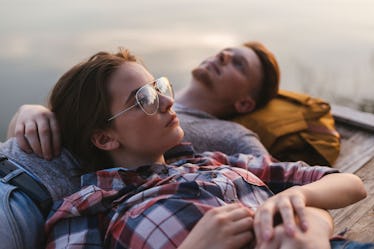 4 Signs You & Your Partner Won't Endure Long Distance, Because It's Not For Everyone
Of the countless potential relationship hurdles couples face, distance is by far one of the hardest to overcome. Keeping the love alive over the phone and via Skype — with some occasional IRL quality time thrown in the mix — can put so much pressure on a partnership. That's why it's so important to ensure that everything between you and your SO is rock solid before deciding to make a LDR work. Sadly, no matter how much you love someone, long distance simply doesn't work for everyone. Fortunately, the signs you and your partner won't endure long distance may be evident prior to putting yourselves through it. That's not to say it wouldn't be worth giving long distance a try, but it's always helpful to go into these situations with a realistic view of how things are likely to turn out.
As someone who managed to endure a long-distance relationship for almost two years, the only thing I can promise you is that it won't be easy. So, if the following things are true about your particular relationship, you and bae might not be ready to go long distance just yet. Although that doesn't mean you still shouldn't try, just be prepared. Long distance is no joke.