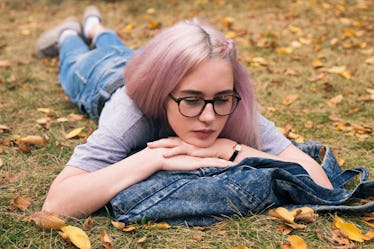 Here's How To Tell If Your Cold Is Actually Just A Nasty Case Of Fall Allergies
Have you been coughing up a lung into your Pumpkin Spice Latte? Are your eyes too watery to try out that cute fall eyeshadow palette you fell in love with at Sephora? Before you start blaming a cold for your discomfort, you might want to double-check your symptoms. The thing is, that sniffle you think is the first sign that you're coming down with a nasty cold? It might actually be a sign of fall allergies, because yes, allergies aren't just a spring thing. Unfortunately, those suckers can wreak havoc on your immune system when you least expect it.
According to Dr. Purvi Parikh, an allergist and immunologist with Allergy and Asthma Network, you might not even realize that you're dealing with allergy symptoms if you aren't sure what to look for. Allergies are much more common than you might think: According to the Asthma and Allergy Foundation of America, more than 50 million Americans have some kind of allergy, which could be anything from food allergies to animal hair to latex. But, during the onset of fall, says Parikh, a seasonal, environment-based allergy could be to blame for your runny nose or persistent cough.
"Ragweed pollen is the major culprit in fall, which stays in [the] air until first frost," the allergist tells Elite Daily over email. But ragweed isn't the only one to blame for your suffering; mold could also be affecting you, Parikh adds. "Especially with hurricane and storm season, there are more leaks and water damage that cause mold indoors as well," she explains.
Usually the symptoms of allergies and the common cold are pretty similar, says Dr. Parikh, but one way to tell the difference is to pay attention to how long you've been feeling sick. If you've only been noticing signs for five to seven days, it's probably just a cold, she tells Elite Daily. Allergies, on the other hand, can last for weeks, unfortunately.
Of course, paying attention to the season also matters. "If you notice you get 'colds' every fall or spring, it's probably allergies and you should be tested," Dr. Parikh explains. Here are the signs to watch out for this fall.