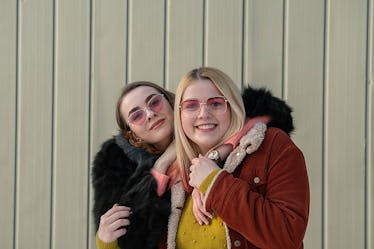 A Dietitian Reveals The 4 Most Realistic Wellness Goals To Set For 2019
Be honest with me here, folks: Are you the kind of person who makes all the promises and resolutions when the new year rolls around to be, like, the healthiest person that ever lived? I get it. It seems like a great and totally doable idea to make all your gluten- and dairy-free vegan meals at home, do hot yoga at 6 a.m. before work, and give yourself daily facials. But you know what's also a great idea? Setting some realistic wellness goals for 2019.
Listen, life is challenging enough as it is without setting tons of hard-to-stick-to New Year's resolutions. There's something super positive to be said for wanting to shift certain aspects of your lifestyle, but why not do it in a way that gives you a little wiggle room and a lot of understanding if the road to getting there has some bumps and potholes? Incorporating new habits or mindsets into your day-to-day is totes doable, but in 2019, it's all about simplicity and approaching yourself with kindness, you feel me?
Below, Monica Auslander Moreno, MS, RD, LD/N, a nutrition consultant for RSP Nutrition, shares some suggestions for wellness goals that are both empowering and approachable.