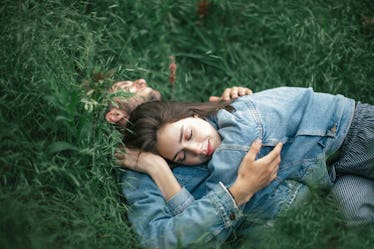 4 MBTI Personality Types That Are The Luckiest In Love
Why is it that some people seem to have endlessly fulfilling love lives? (Like c'mon, Karen, leave some romantic bliss for the rest of us, will you?) While dating is seemingly a total struggle bus for some — it's effortlessly exciting for others. And as it turns out, your personality type has a lot to do with this. It totally makes sense, too, when you consider how much your personality impacts your relationships, from how you interact on first dates to how you deal with personal conflict. The Myers-Briggs personality types that are the luckiest in love are the ones who have strong communication skills, a willingness to open up emotionally, a keen awareness of their others' needs, and a growth mindset.
Of course, every MBTI personality type has its own strengths that come in handy when it comes to dating. And ultimately, being lucky in love means finding the right fit — that person who perfectly compliments all of your unique qualities, challenges you, and brings out the best in you. That said, certain personality types may be more inclined to find happiness while dating than others. Wondering where you stand? Here are some of the MBTI types that make falling in love look easy peasy.