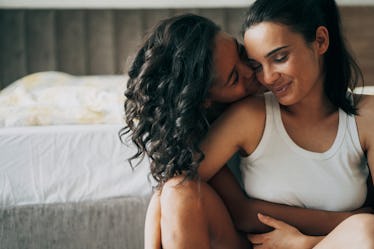 These 4 Zodiac Signs Make The Most Passionate Partners
filadendron/E+/Getty Images
If you've ever dated someone who blew you away with their natural sex appeal and romanticism, then you know that some people just intuitively know how to dial up the heat in a relationship. Whether it's through their confidence, their quietly loving actions, or the way they always manage to turn you on, you feel like every sense is heightened whenever you're around them. If you're dating one of the most passionate zodiac signs, you're in for an all-consuming and profound kind of love. The relationship may last a lifetime or just a few months, but either way, you're unlikely to forget your powerful connection.
That's not to say that your relationship will always be smooth sailing. Passion looks a little different for every couple, and it can also grow and change with time. As relationship expert Susan Winter previously told Elite Daily, "Our partner needs to know that we value them and that they have a vital role in our life. From this foundation of appreciation and gratitude, romantic feelings grow with abundance." In a passionate and loving partnership, both people give equally of their time and energy. This makes room for intimacy to flourish.
That said, some people are born romantics who naturally make life feel more intense and exciting. Here are the most passionate signs in the zodiac, and how they typically like to show their love.