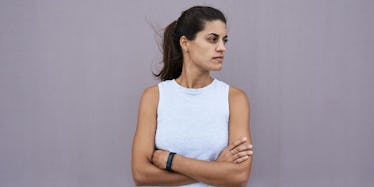 Give Your Immune System A Healthy Boost For The Holidays With These 4 Natural Remedies
The chaos and busyness that inevitably comes with the holiday season is nearly upon us, friends, whether you're prepared for it or not. And while it's great to celebrate with the people you love, that doesn't mean you have to throw self-care completely out the window. It's important to find ways to take care of yourself during this hectic time, and luckily, there are a few easy, natural ways to boost your immune system to make sure you're not sniffly and feverish by the time you sit down with your relatives and get grilled about your personal life. Because really, the last thing you need while you're trying to finish the last of your holiday shopping is a head cold that spins you out of control, or a sinus infection that makes you want to tear your eyes out.
Amy Leigh Mercree, a wellness coach and medical intuitive, knows a thing or two about nurturing your immunity all year round. However, if you ask me, her tips are especially valuable during the chilly, chaotic holiday season.
Seriously, keeping a cold at bay as you plow through your holiday to-do list might just be as easy as rubbing some oregano oil on the bottoms of your feet. Don't give me that look — read about it for yourself and thank me later.